UNESCO Biosphere Reserves
INSPIRING A POSITIVE FUTURE
A biosphere reserve is an area declared by the United Nations Educational, Scientific and Cultural Organisation (UNESCO) as having achieved a notable balance between environment and sustainable human development.
UNESCO Biosphere Reserve status recognises places around the world with outstanding natural environments, where communities are committed to working together to live sustainably.
Biosphere reserves are living, learning places. They are used to showcase innovative approaches to conservation and sustainable development and act as a regional centre for scientific research and education on natural and managed ecosystems.
Biosphere reserves consist of terrestrial, marine and coastal ecosystems and showcase various approaches to sustainable development that are culturally relevant to local communities.
Generally, biosphere reserves will have at least three objectives:
conservation – in terms of genetic resources, species and ecosystems
sustainable development – economic, environmental, human and cultural
learning – research, monitoring, environmental education and training
What happens in a biosphere reserve?
Biosphere reserves are guided by the UNESCO Biosphere Programme, an Intergovernmental Scientific Program that aims to establish a scientific basis for the improvement of relationships between people and their environments.
Biosphere reserves are sites that demonstrate innovative approaches to conservation and sustainable development. They share their experience and ideas regionally, nationally and internationally within a world network of biosphere reserves.
Biosphere reserves go beyond confined protected areas to where sustainable economic development is made possible through partnerships with local people.
Biosphere reserves are about developing quality economies based on local community action and entrepreneurship, sound science, public-private sector partnerships and networking.
Biosphere reserves also provide living laboratories to experiment with and showcase various approaches to sustainable development that are culturally relevant to local communities.
Read more about UNESCO's Biosphere Reserves
Part of a global network
Mornington Peninsula and Western Port Biosphere Reserve is part of a global network, connected to 748 biosphere reserve sites across 134 countries under the UNESCO World Network of Biosphere Reserves.
The World Biosphere Network is a platform for these sites of excellence to share knowledge and develop approaches to achieving the global goals of the Lima Action Plan 2015-2025 and the global Sustainable Development Goals (SDGs).
Mornington Peninsula and Western Port Biosphere Reserve is made up of 214,048 hectares spanning five local government areas and French Island. It combines a mix of landscapes, assembled into 69% terrestrial and 31% marine.
This updated map was included in our submission to UNESCO in September 2022 as part of our second Periodic Review.  It shows the extent of the Reserve and also the different zones within it – including core, buffer and transition zones.  The GIS files for the zonation map are located here.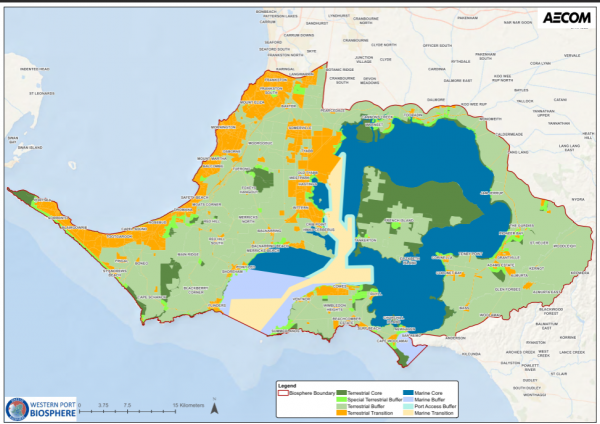 Mornington Peninsula and Western Port Biosphere Reserve is one of five UNESCO biosphere reserve sites in Australia, along with:
UNESCO 2022 10 Year Review 
The Western Port Biosphere Reserve has retained UNESCO designation, following submission and approval of our second 10-year periodic review.
Key components of the review process included:
A restructure of the biosphere zonation map to more accurately reflect land use in the biosphere reserve thanks to pro-bono GIS consultation with AECOM
Collation of all flora and fauna species in the Biosphere Reserve, including threatened species, introduced species and native species in a comprehensive report provided by AECOM, can be found below:
Native Vegetation: Vegetation Habitat Type Map Native Vegetation Cover Map
Flora map: Native Vegetation Cover Map
In depth discussions with key Western Port stakeholders to document past and current projects occurring in the reserve relating to conservation, research and economic development. Stakeholders included Biosphere Councils, Bunurong Land Council, DEECA, Parks Victoria, Melbourne Water and community groups (e.g. Landcare groups)
In response to our review, the Advisory Committee commended both the report and progress made within the Biosphere Reserve over the past 10 years, as detailed below:
"The Advisory Committee welcomed the second periodic review report of the Mornington Peninsula and Western Port Biosphere Reserve, designated in 2002. The Committee commended the quality of the report as well as the progress made since submission of the last report in 2014."
"The Advisory Committee appreciated the vigorous efforts made during the periodic review process in consultation with various key stakeholders, including traditional custodians, local and state government representatives, land managers, community groups and other biosphere reserve managers. The zonation map was updated using GIS to accurately reflect the nature and type of human activity and development within the biosphere reserve. The marine and terrestrial core areas and terrestrial buffer zones were increased, resulting in minor changes to the protection regime."
Key Foundation-led initiatives that were highlighted and congratulated by the committee included:
"A flagship project 'Growing Connections' implemented during the period 2012–2017 which resulted in the development of a rigorous programme that monitors biodiversity across the biosphere reserve
Mapping, restoration and creation of blue carbon ecosystems, such as natural mangrove seagrass and saltmarsh habitats of the Western Port, for the purposes of climate mitigation;
Establishment of a Council Liaison Committee and an associated Memorandum of Understanding in 2017 for the biosphere reserve management to engage with a range of formal and informal governance structures"
They also highlighted key achievements of the biosphere reserve community commending:
"Significantly increased recognition of Traditional Custodians of the Bunurong and Boon Wurrung people of the Kulin Nation
successful campaign to prevent the installation by Australian company AGL of a major gas import terminal at Crib Point;
Increased research efforts in partnership with leading universities."
In the Western Port Biosphere Reserve, the community engages in a wide range of activities aimed at conserving biodiversity and promoting sustainable development. These include participating in habitat restoration projects, conducting scientific research, implementing more sustainable farming practices, supporting local businesses that prioritize environmental sustainability, engaging in environmental education, practicing responsible recreational activities to minimize impact on the environment, and advocating for a more sustainable future. UNESCO's positive response to our 10-year review reflects the efforts  of community, industry and government that over the past decade has enabled a healthier, prosperous Western Port.
Redesignation as a UNESCO Biosphere Reserve reminds us of the region's unique characteristics – evident through core, buffer and transition zones – and the resulting opportunities to be a leader in sustainable development. The positive response to this review reinforces the Western Port Biosphere Foundation's commitment to inspire the future by connecting people with nature today.