Western Port Biosphere Community Forums
2023
Prior to Covid, face to face community forums were a regular offering for both The Western Port Biosphere Foundation and Melbourne Water.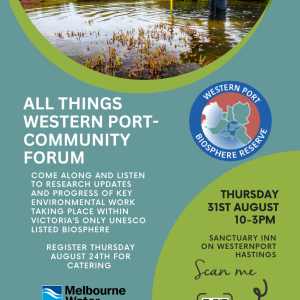 This August, we are delighted to bring the 'All things Western Port'
This forum is designed to connect Western Port stakeholders and community members to discuss the challenges and opportunities of our unique region. Come along and listen to research updates and progress of key environmental work taking place within Victoria's only UNESCO listed Biosphere.
Below you can find a link to our post event survey and speaker bios. Links and copies of presentations from the day will be uploaded as they become available, along with the event video.
Survey link: https://forms.office.com/r/gcdkuJYPi0
Speakers' bios and presentation copies:  
Welcome to Country – John West, Bunurong Land Council  
Welcome to the Bunurong Land Council Aboriginal Corporation. We are a Traditional Owner organisation that represent the Bunurong people of the South-Eastern Kulin Nation. We aim to preserve and protect the sacred lands and waterways of our ancestors, their places, traditional cultural practices, and stories. 
Mel Barker, Western Port Biosphere Foundation 
As one of only 5 UNESCO Biospheres in Australia and the only one in south-eastern Australia, the Western Port Biosphere Reserve is a unique asset for Victoria. The reserve encompasses 5 different council areas (Bass Coast, Casey, Cardinia, Frankston, Mornington Peninsula) and French Island, as well as our internationally recognised Ramsar wetland.  
Dr Adrian Flynn, Fathom Pacific Pty 
Dr Adrian Flynn is Director and Principal Scientist at Fathom Pacific Pty, a firm that is involved in research and consulting in Western Port to map biotope and identify environmental management objectives for DEECA.  Western Port is home to unique biotope mosaics ad in this presentation Adrian will profile newly described and mapped bryozoan reefs and discuss some of the ecological features and interactions in the bay.  Dr Flynn will outline the integrated system of environmental management being implemented across Victoria to unify data and support decision-making and how the Biosphere's consideration of management actions is being planned to fit into that system. 
Dave Bateman, Luke Phillips and Joel Kilgour, Bass Coast Landcare Network   
Dave Bateman is the Bass Coast Landcare Network Executive General Manager and Local Landcare Facilitator and Luke Phillips, Natural Resource Management Project Officer. Our vision is to be a community engaged in supporting a productive, biodiverse landscape incorporating sustainable agricultural practices and innovative environmental enterprises. We collaborate with our groups, the community and partners to provide on ground services in the delivery of innovative land and environmental management practices in support ​of healthy and resilient communities and ecosystems for generations to come. 
 3 BCLN Mangrove pesentation.31.8.2 no vid.pptx
Sue Finley, Western Port Catchment Landcare Network 
Sue Finley, the new Western Port Catchment Landcare Network Facilitator joined the network in July 2023. She has an aligned passion for community, education and the environment. Sue will give a brief overview about her involvement with the WPCLN and the 14 community groups that make up the network. Highlighting the diversity of work across the catchment and how the network is achieving their Landcare goals. 
 Sue Finley – WPCLN biosphere.pptx
Dr Greg Holland, Mornington Peninsula Landcare Network (MPLN) 
The Mornington Peninsula Landcare Network (MPLN) represents the 13 Landcare groups on the Mornington Peninsula. The MPLN was formed in 2014 to enable local Landcare groups to work together more effectively to address local land management issues and develop projects to enhance the environment. BioLink's enable free movement and genetic exchanges of flora and fauna across a patchwork landscape. That alone would be a critically important role. But they do much more. Done properly, bioinks also: provide ecosystem services which improve catchment health; increase biodiversity; and improve agricultural productivity. 
Greg has a PhD in extreme weather and climate change. He has also been a keen bushwalker and environmentalist all his life and retired to the Peninsula to turn his hobby into a later-life career. He is currently coordinator of the Greens Bush to Arthurs Seat Biolink, a committee member of the Main Creek Catchment Landcare Group and the Mornington Peninsula Landcare Network, and editor of the monthly Peninsula Landcare Network Newsletter. 
 Greg Hollands Biolinks Flora and Fauna Highways and Much More Aug 2023 LR.pptx
Greg Hollands Biolinks Flora and Fauna Highways and Much More Aug 2023 LR.pptx
Dr Rhys Coleman, Melbourne Water  
Dr Rhys Coleman an aquatic ecologist who currently manages the Waterways and Wetlands research program at Melbourne Water – including projects relating to the stormwater management, protection of aquatic biodiversity, vegetation management, aquatic recreation and public health, environmental flows, and catchment impacts on estuaries and bays.   
Read Dr Rhys Coleman's presentation here:
Western Port environment research | Melbourne Water
Dr Kathryn Russell, University of Melbourne Water  
Dr Kathy Russell is a fluvial geomorphologist, working on the impacts of urbanization on stream physical form and function. Her research interests include the sediment supply and transport regime of urban streams, sediment pollution produced by construction areas, prediction of stream channel adjustment to urban conditions and the provision of freedom space for urban streams to exhibit healthy dynamic behaviour and engage their floodplains.  
Read Dr Kathyrn Russell presentation here
Western Port environment research | Melbourne Water
Laney Callahan, Deakin University 
Laney is a PhD candidate conducting research on improving seagrass restoration techniques in Western Port Bay, Victoria. Laney completed a Bachelor of Science (Zoology) and an Honours degree (Conservation Ecology) investigating climate change vulnerability of marine biodiversity in the Southern Ocean and Antarctica. Currently, she is interested in utilising unmanned arial vehicles (UAVs or drones) to map current seagrass extent and biological characteristics of priority seagrass restoration sites to better inform restoration efforts. The research Laney will output will aid in developing fine scale suitability models to guide seagrass planting in restoration trials. 
Read Laney Callahan presentation here:
Western Port environment research | Melbourne Water
Dr Ashley Whitt, the Nature Conservancy  
Dr Ashley Whitt is passionate about cultivating opportunities which enhance the environment and local communities. As the Oceans Project Coordinator for Blue Impact Bonds, she oversees the development of an innovative financial mechanism for supporting an uplift in ecosystem services and resilience to climate change. Her PhD from Deakin university, focused on the future of coastal wetlands under rising sea levels which helped coastal managers understand opportunities to strengthen wetland resistance and resilience across Australia.  
Read Dr Ashley Whitt presentation here:
Western Port environment research | Melbourne Water
Prof Vin Pettigrove, RMIT University  
Prof Vin Pettigrove is the Leader of AQUEST (the Aquatic Environmental Stress Research Group) at RMIT University. His primary research interests are to understand and address the impacts of aquatic pollution on aquatic ecosystems. Other research interests include freshwater sediment toxicity, exotic fish management, pesticide pollution, endocrine-disrupting chemicals, macroinvertebrates, and the use of fish and other biota as indicators of sediment pollution. He have designed and conducted a broad range of biological and water quality research and monitoring programs that help catchment management authorities, water authorities and environmental regulators identify the priority issues impacting aquatic ecosystems.   
Read Prof Vin Pettigrove's presentation here:
Western Port environment research | Melbourne Water
Blue Scope Steel
Bluescope WP Biosphere Forum August 2023.pptx
---
2022
We regret that all 2022 Community Forums were postponed or cancelled due to COVID related issues.  We would rather meet you in person, rather than virtually.
2021
We regret that all 2021 Community Forums were postponed or cancelled due to COVID related issues.  We would rather meet you in person, rather than virtually.
2020
March 14: On water matters – exploring Western Port by boat
October 1: Navigating the Marine and Coasts Act  Summary
December 3: Water, food and agriculture in the Sustainable Development Goals  Details