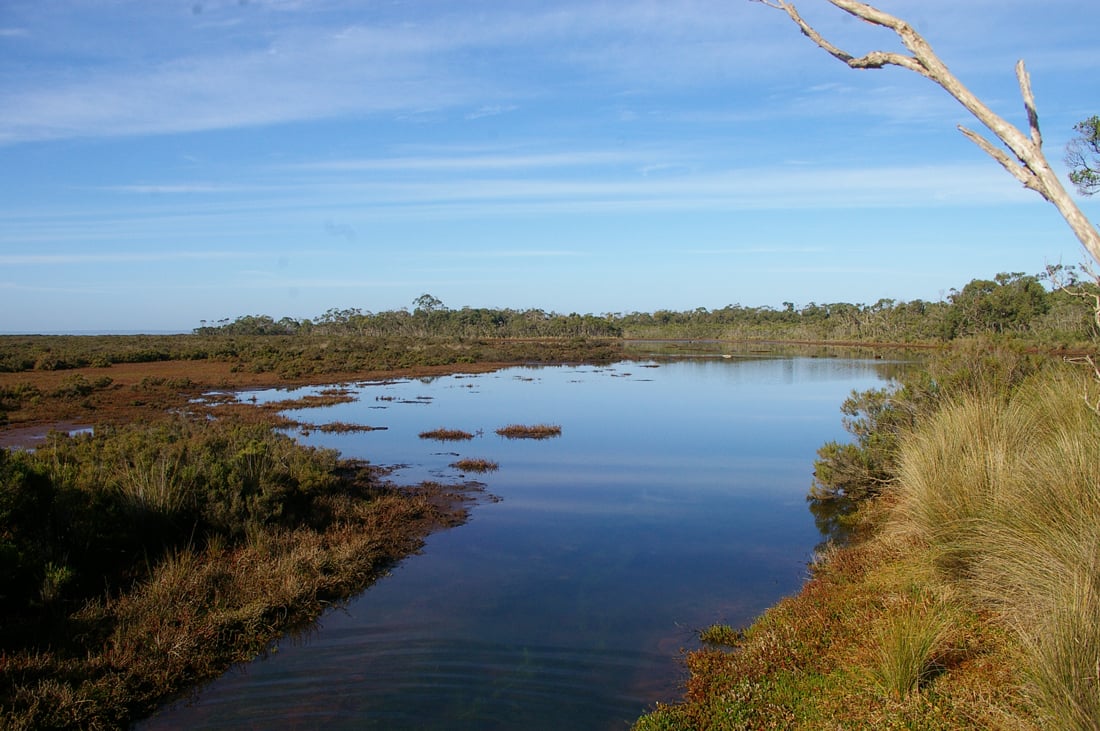 Connector Newsletter Issue 38
Water Stewardship at Luxton Park  
July 17, 2023
By Jessica Brady – Communications and Engagement
The Western Port Biosphere Foundation had the recent pleasure of signing off local property Luxton Park, as part of the Biosphere's Water Stewardship Program. The program uses the Alliance for Water Stewardship (AWS) International Water Stewardship Standard as a tool for businesses and land managers that use water to address the shared and site-specific challenges of the catchment.
The AWS has been developing a global water stewardship system since the Millennium Drought in 2006. During this time, the Western Port Biosphere Foundation has worked with multiple landowners and businesses within the Biosphere to improve water management on their properties and to positively influence local waterways. 
Luxton park is a 100-acre pasture property, including 17 acres of reclaimed wetlands. Owners John and Catriona work together. John with the use of regenerative methods to support his farming enterprise of Wiltshire horn sheep, while Catriona focusses on the wetlands and revegetation efforts.  
It was a single, huge, Eucalypt thought to be 100's of years old and pre-dating European settlement that provided Catriona with the impetus to start to try and return the land and water to what it was in some capacity.  Catriona came to learn that the original billabong at the end of the creek on their property had been recorded or noted prior to European settlement and that it may have been a place where First Nations camped alongside this constant and deeper fresh water source. "Once again this history encouraged me to try and protect not only the land and the water but honour the space that may have been used for millennia as a source of food, water, protection from the wind by the aboriginals whilst protecting the indigenous plants and animals" says Catriona.  
Beginning in 2001, what was once an empty flat over-grazed paddock soon became the first wetland. With a series of lagoons of varying size and depths, teamed with 20 years of planting and natural regeneration, this wetland is now home to a huge array of fauna, a family of echidna, black snakes, koalas, swamp wallabies and blue tongue lizards. Numerous species of birds inhabit the trees; yellow Robins, superb Fairy-wrens and Honeyeaters. Reed-warblers, crakes and rails are regularly sighted at the water's edge.  Black swans cruised centrally on occasion and, as always, the little Australian Grebe proudly patrolled the central larger dam.  
A second wetland began development in 2015, with more plans to continue to keep planting indigenous plants whilst slowing the transit of water to improve pastures.    
The Biosphere Foundation supported Catriona to develop a Water Stewardship Plan for the property.  This plan is a form of catchment and water management which is easily developed and implemented, built on existing works and planning. The plan calls for continuation of the revegetation along water inflow pathways to wetlands and dams to ensure sediment and nutrients are trapped in vegetation (grasses and shrubs), revegetation around wetlands and along fence lines and areas not supporting agriculture directly. Monitoring water quality, possibly with help of nearby school groups, will help chart the success of the wetland development and revegetation. Managing the farming enterprise to be sympathetic to biodiversity, water and water quality – such simply as good pasture and grazing management (part of the philosophy of this enterprise anyway) – will continue as a matter of course! Lance Lloyd, Water Stewardship Advisor at Western Port Biosphere says "These actions will help manage water in the landscape, improve biodiversity on Luxton Park and the downstream Merricks Estuary and ensure the farming enterprise is sustainable." 
If you would like to know more about Water Stewardship or any of our other work, you can find us on www.biosphere.org.au