Ramsar Protection Project 2022-2023: An update from French Island
October 8, 2023
By Julie Trezise- French Island Landcare Group
Feral Cat Free French Island Project/Two Great Ramsar Wetlands Project
In November 2022, 70 Enduro Swift 4G enabled cameras, solar panels, SD cards, rechargeable batteries, sim cards with 12 month pre-paid plans, 12 month subscription to the Artificial Intelligence software program eVorta were purchased with funding from Melbourne Water and Western Port Biosphere.  Additional hardware was purchased by French Island Landcare Group through Ramsar fundings which included hardwood stakes, metal brackets and bolts for installation of the cameras and solar panels in the field.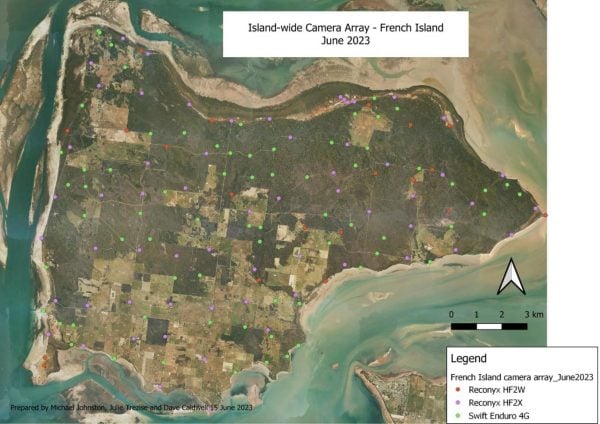 Julie Trezise and Michael Johnston configured the cameras, designed their placement and completed the installation and ongoing monitoring.  Design of additional camera monitoring and installation aimed to increase coverage across the whole island landscape to further assist with population estimate modelling whilst also taking advantage of known pinch points to provide vital intel to operational crews.
Installation began in December 2022 and was completed in mid-January 2023. Feral cat trapping operations ran from mid-January to the end of February.  The eVorta subscriptions were set to alert the presence of feral cats in real time.  All cat alerts were sent to Parks Victoria and the operational crew every morning to provide vital intel for targeted trapping.  Feedback was very positive, receiving daily intel of feral cat locations during operations was incredibly helpful.
On-ground operations have stopped since the end of February, however the alerts continue to be forwarded to Parks Victoria and trapping crews daily.  The number of cat detections has increased in June 2023 and now we are seeing multiple cats and kittens across the entire island and cat detection alerts are daily.
The first service of these new cameras and the original cameras was completed in June 2023 by Michael Johnston and Dave Caldwell with help from Bunurong Land Council and Parks Victoria.  Three cameras were stolen and four were not working and sent back for repair under warranty.  These cameras have since been reinstalled.
Wildlife are captured by the cameras and help tell the story of the benefits from reducing predation pressure through the removal of feral cats from French Island.  There has been a noticeable increase in single images with multiple potoroos and many more images of ground nesting birds with chicks and other cool wildlife interactions.  The suppression of feral cats has had a positive impact on wildlife.
Parks Victoria has a new Project Officer, Lucy.  They have plans to undertake a cage trapping pulse in August to October and may include some night shooting.
French Island Landcare Group continue to support Responsible Cat Ownership.  We encourage all cat owners to have their cats on our database with up to date photos of both sides of the cat.  De-sexing and micro-chipping remains fully funded, please contact us to help organize this.  Research suggests that cats that are kept in enclosures and not allowed to roam actually live much longer lives and our wildlife also benefit from this arrangement.  Collars and shaved sections of the tail help to identify the domestic cats on camera and if caught in a trap.
Western Port Ramsar Enhancement Project
French Island Landcare Group has partnered with Melbourne Water to deliver priority actions that contribute to the protection of enhancement of the Western Port Ramsar site.  French Island Landcare Group has engaged with landholders to control coastal woody weeds and manage rabbits within the surrounding coastal saltmarsh vegetation community.
The Western Port Ramsar Enhancement project aims to protect, maintain and enhance the ecological values of internationally significant wetlands in the Western Port Ramsar site.  French Island Landcare Group received funding from Melbourne Water to contribute to this project by managing European rabbits and coastal woody weeds.  Rabbits impact Ramsar wetlands through excessive grazing on delicate habitat such a saltmarsh.  They dig extensive burrow systems which also damage these fragile ecosystems.  Woody weeds provide excellent harbour for rabbits and out-compete our native vegetation.  An integrated management approach of rabbit control using multiple tools combined with woody weed removal to reduce harbours is important to increase the success of the project.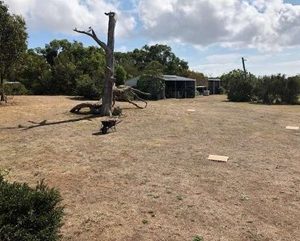 This is a multiyear project.  In 2022/23, we completed the first pulse of rabbit control.  Starting with a baiting program across 3 adjoining properties, followed by an intensive shooting program on 10 properties.  Hutches were used throughout the baiting pulse to minimize impact on the baits from rain and reduce non-target uptake of baits.  The baiting program reduced the rabbit population on these properties however, wet weather was a hindrance and therefore the next baiting program will be delivered over the summer months to improve the efficacy and longevity of the baits and improve the outcome.  The shooting pulse ran over 6 nights and despite rain on 4 of those nights the team removed 270 rabbits, which will make a significant difference to the landscape in these areas.  Timberscope were engaged to complete this work, they did a great job and were very professional.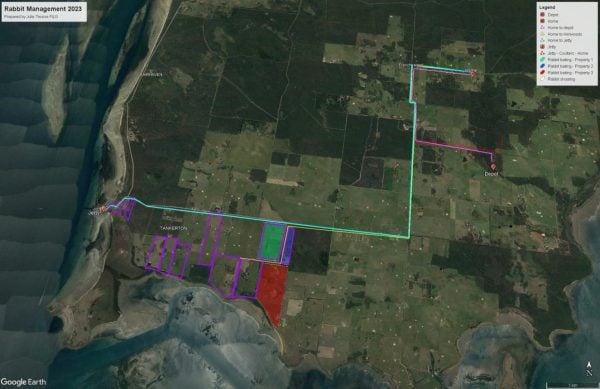 Woody weed works will be completed in 2023/24 financial year along with a second pulse of rabbit control involving both baiting and shooting. The output deliverable of 20 Ha of woody weed control was not met but we will deliver at least 30 Ha of woody weed control on coastal properties in the next financial year.  We exceeded out environmental works output for pest animal control (rabbits) which was a target of 20 Ha in 2022/23 and delivered 108 Ha of baiting and 219 Ha of shooting.
Nursery and Community Garden Update
We have completed stage 1 of the Nursery/Community Garden.  We have moved in and have commenced the new growing season.   Stage 2 is the garden design.  That is a work in progress.  Our next major job is the rabbit proof fencing and the gravel pathways.
As you can see in the photos, we have been very busy.  The soil bay proved to be a challenge, as some of the screws were stuck hard in the timber and wouldn't budge.  It was a case of pulling it apart.  Re-assembling it, was much easier.  The weed-mat has been laid, the sprinkler system installed and the benches put in place, ready for the plants to be moved in.  Shelving has been put together and placed in the shed and is now full of all our pots and equipment. The Chem Shed has also been moved and all gardening tools are hanging in their respect places.  The pergola has been finished and a small power systems has been installed.