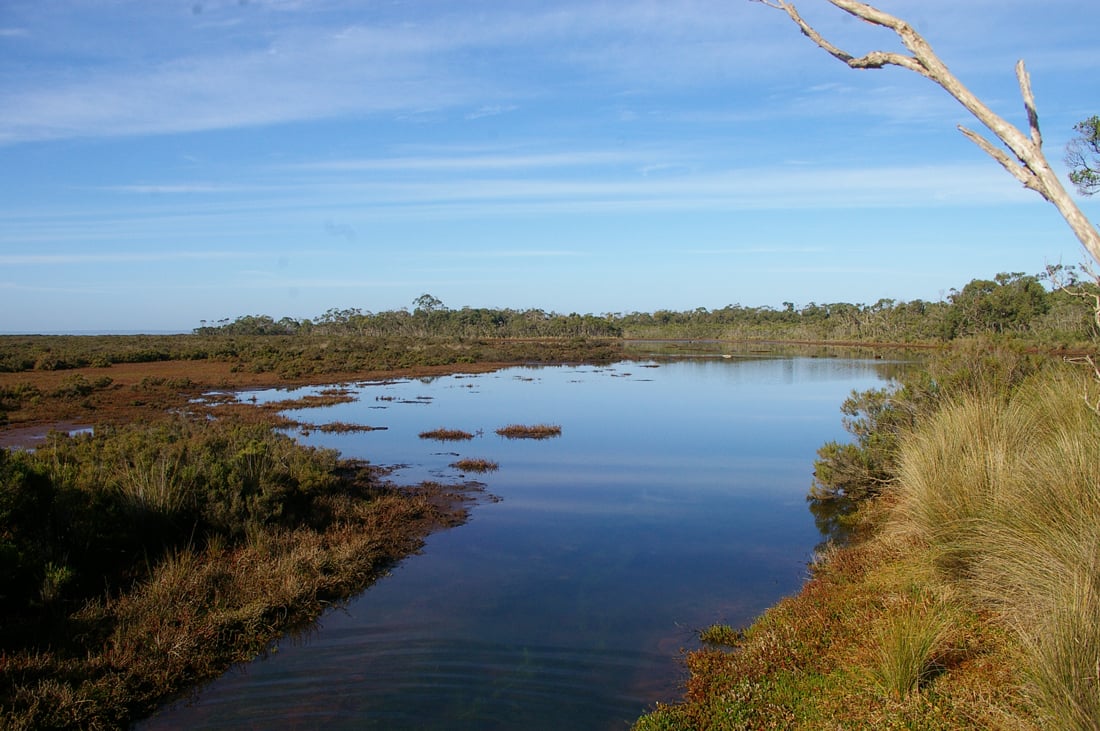 Connector Newsletter Issue 36
Projects Report
January 27, 2023
By Glenn Brooks-MacMillan, Program Manager
Water Stewardship – Environment Restoration Fund
We have come to an end of the Water Stewardship auditing process with only a couple of sites to complete. Plans have been developed for all the stewards already assessed, with the landowners finalising their actions so we can verify and accredit them as Water Stewards. We are looking forward to celebrating our stewards at a get together at a forum planned later in April.  We were delighted to visit the Pakenham Race Club in Tynong and discuss the water management on their site. The club has been operating at this site for some years now and the water plan developed will assist them continue with the water catchment and quality improvements already in place. We are also looking forward in the next few months to introduce the Bunurong Land Council Aboriginal Corporation (BLCAC) Environment team to undertake water steward training and to apply this to their recently acquired property on Phillip Island.
Blue Carbon Mapping
Our Blue Carbon mapping project across Port Phillip Bay and Western Port with the Blue Carbon Lab at Deakin University has progressed to almost completion. The Blue Carbon Lab team have done a fantastic job in preparing a draft final report with associated maps and recommendations on the steps ahead. The councils are currently reviewing the report and we aim to come together to discuss the findings with a presentation by Peter Macreadie. We are also aiming to present the story map of the report at that event.
We aim to present the findings to the wider community at a series of forums we will be delivering over the next few years thanks to funding though Melbourne Water. Watch this space for more details.
French Island Landcare Nursery & community garden & Feral Cat Eradication: Camera trapping
We were fortunate to visit French Island during this period with the representative Councillors and council staff. We were delighted to see and hear the great work the French Island community have been undertaking, in particular the native plant nursery hot house. In addition, we were treated to a locally prepared lunch while we listened to the progress of the feral cat eradication program of which our foundation has been proud in being able to help fund more cameras for their program.
Western Port Biosphere Reserve Koala Awareness Program
In our last edition we introduced Kelly Smith and her exciting Koala Awareness program and can today share that she has been successful in receiving funding through the Landcare Grants to deliver an awareness program within the Biosphere Reserve. Kelly will be putting a call out for volunteers to help collect data soon.
New Projects:
Bushbank – We are delighted to share a new project in which we are partnering with the Bunurong Land Council Aboriginal Corporation (BLCAC). Following on with our Blue Carbon initiative, we identified an opportunity through the Bushbank – First Nation stream program to work with the BLCAC Environment Team to help develop their skills and knowledge in Blue Carbon Ecosystems. Better still our bay will benefit from the onground work they will undertake to develop these skills. The team consists of six members at this point with a variety of skills and backgrounds. We kick started the project a few weeks ago and we were very pleased with the level of enthusiasm and passion the team members demonstrated. The project will go for four years, and we aim to cover a variety of different types of activities all based around the enhancement, protection and awareness of Blue Carbon Ecosystems within Western Port. These activities will include understanding the threats and impacts catchment properties have on adjacent coastal environments, designing remedies, planning implementation activities, fencing, collection of seeds, propagation, planting, monitoring, community events and reporting. More importantly, we are aiming to develop solutions that are driven through First Nation approaches and delivered by First Nations people in partnership with our many key stakeholders across the bay.