Hastings named Australia's most Sustainable community
October 4, 2021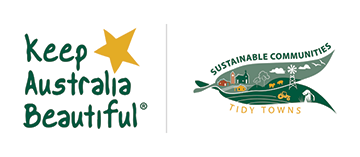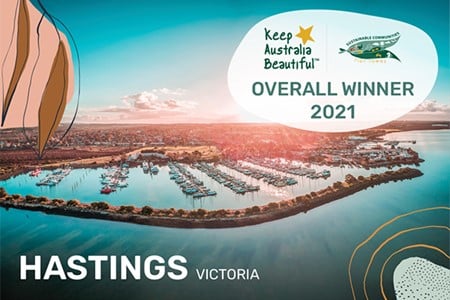 Keep Australia Beautiful has announced the Victorian finalist Hastings as the winner of the 2021 Australian Sustainable Communities – Tidy Towns Awards, at an online event held on Friday 3 September 2021.
Running nationally since 1990, the Australian Sustainable Communities – Tidy Towns Awards have evolved to encompass projects and initiatives with a focus on environmental sustainability and resource management to reflect a growing awareness of the importance of community-led environmental action. The Tidy Towns name has always been synonymous with community pride, cohesion and above all, community action. The awards reach beyond tourism to encourage, motivate and celebrate the sustainability achievements of grassroots rural and regional communities across Australia.
Traditionally, the 2020 overall winner, Beechworth, Victoria, would have hosted this year's awards event. Due to the continually shifting nature of the COVID-19 pandemic, the 2021 Awards Ceremony was once again held online.
Hastings was also awarded winner of the Dame Phyllis Frost Litter Prevention category award and was the joint winner in the Heritage and Culture (with Wallace Rockhole, Northern Territory), Community Health, Wellbeing and Interest (with Narrogin, Western Australia) categories.
Hastings local, Harrison Hansen, was awarded winner of the Young Legends (Individual) category.
Australian Sustainable Communities – Tidy Towns judge Gail Langley said the town – located on Victoria's Mornington Peninsula – won four of the nine categories and scored highly in the remaining five categories.
"The Hastings Keep Australia Beautiful working group showcased their town and showed there is a strong focus on striving to become more sustainable each year, with the community demonstrating consultation, collaboration and inclusion to implement successful projects," commented Ms Langley.
"Hastings has demonstrated a strong focus on determining perceived needs of future generations as well as valuing and caring for the abundant natural resources in their local area.
"The community not only caters for those living in the town but also extends the community spirit of support to others, as demonstrated during the devastating 2020 bushfires, with the Hastings community becoming pivotal in assisting 4,000 Mallacoota beach evacuees."
Val Southam, Chief Executive Keep Australia Beautiful commended all the finalists in this year's Awards.
"Entrants in the Sustainable Communities – Tidy Towns competition, who are largely volunteers, are some of the most dedicated and passionate people we are fortunate enough to be involved with.
"In addition to a healthy dose of competition, the awards bring together community leaders, environmental champions, young legends and waste warriors from every corner of our great country to share experiences, learn from and inspire each other.
"This is the true Sustainable Communities – Tidy Towns spirit."
CONTACT DETAILS:
Judge Contact:
Gail Langley [email protected]
National Media Comment:
Val Southam, Chief Executive, Keep Australia Beautiful [email protected] 0419 016 401
EDITOR'S NOTE:
About the Australian Sustainable Communities Awards
Keep Australia Beautiful seeks to lead, challenge and inspire all Australians to strive for a sustainable and litter free environment. It does this through research, communications programs and awards programs.
Its national awards are known as the Australian Sustainable Communities – Tidy Towns Awards. The Awards program commences with state and territory awards and culminates in a national Grand Final event.
© 2021 Keep Australia Beautiful National Association | ABN 35 743 600 611
Keep Australia Beautiful acknowledges the traditional custodians throughout Australia and their continuing connection to the land, waters and community. We pay our respects to all members of the Aboriginal communities and their cultures; and to Elders both past and present.