Dolphin Research Institute: Welcome to 2021
February 3, 2021
Excerpts from the Latest DRI Newsletter
Welcome to 2021 – Celebrating 30 Years!
On behalf of all our team welcome to 2021 – hopefully a better year for us all.
March 22nd will mark our 30th anniversary. It is a time to celebrate the achievements that your support has enabled.
It is also a time to map out our fourth decade to provide solutions that will help to give these playful calves and all our living marine treasures, the environment they deserve.
In December we launched a pilot of our "Dolphin Distancing" Program, a positive approach to building a strong community of boaters who are committed to respecting our dolphins.
The good news is that response has been so good that we need another print-run of stickers!
The challenge is that it is too early to see results as change takes time. It's frustrating because our dolphins in both bays are having a frantic start to 2021.
The best thing you can do is for you and your friends to commit to Dolphin Distancing, to help us build a strong community who both respect dolphins themselves and expect others to the do the same.
Thank you again and warmest wishes to you and your families for the year ahead.
Jeff Weir OAM, Executive Director
PS – Bookings for education programs are coming in fast, so please let your schools and groups know that we have effective Covid plans and are keen to see them in 2021.
---
How you can help to protect our dolphins… 
"Covid-crazy" best explains the behaviour of people around our dolphins in both bays, so far this Summer. It seems worse this year and frustrated and angry are calling us to report what they are seeing.
The stress of endless interruptions to feeding, resting or nursing take a toll and can cause the loss of local dolphin populations.
Unfortunately, there are no quick fixes – the best thing is to report concerns to DELWP on 136 186 for them to follow up the worst events and to support a case for greater enforcement.
DRI collates reports we receive and forward them directly to Wildlife Officers. We are also working with the community and other parts of government.
After three decades of doing things that don't work — with the usual signs, media releases, calls for more policing, or blaming and shaming, we are trying something different that we know has worked in other situations.
We are working to build a strong community committed to doing respecting dolphins and shift the norm on the water.
This is what Dolphin Distancing is all about.
It's easy, doesn't cost anything and makes you part of the solution.
We ask people to commit on our website and proudly display the sticker we send them. Also to enlist their friends. We are talking to yacht clubs, fishing and boating groups (including Jet skis) and many more, to join in.
DRI is here for the long-haul and Dolphin Distancing will be a core program throughout our fourth decade. Because the uptake has been so great, we need to print more stickers, so get in quick so you don't have to wait!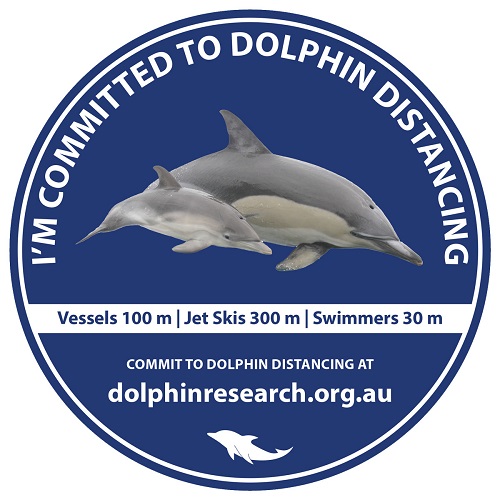 ---
Our 2020 Summer Snapshot is ready to download.
Read how your support has helped our team of staff, interns and volunteers to achieve some fantastic research and education outcomes – in spite of the challenging times.
2020 has ended with some positives,  March 2021 will see our 30th anniversary – stay tuned for some exciting announcements…
Download 2020 Summer Snapshot Here