Board members visit the Global Biosphere Network – near and far
June 30, 2022
Visit to Noosa Biosphere April 2022 – by Colette Day, Biosphere Foundation Board Member and Chair Science and Education Committee
Out on the road again and traveling North, we are hosted by Noosa Biosphere for a lovely day in the Hinterland with much discussion with the outgoing Chair Rowan Rafferty and his partner Jan.
Warm, gentle breezes and clear skies are a remarkable difference for us after our travels through flood ravaged northern NSW. We reckon that it has been 20 years since we were last in Noosa and the difference we see is also remarkable. Noosa is a beautiful place with National parks, stunning white sand beaches and wooded lagoons. At the same time there is a permanent population of some 56600 spread in low rise housing throughout the area. Tourism is a major industry for the area, welcoming 2 million visitors in 2018 and even 700,000 in COVID effected 2021.  With such activity there are pressures on the sustainability of these fragile ecosystems.
Our host enlightened us on the Noosa & Region Agri Hub project, www.noosabiosphere.org.au/portfolio/agri-hub . The project aims to increase the value of sustainable agriculture to the area, creating a framework to bring together local landowners and farmers, develop markets for regional produce and therefore an economy providing jobs and economic diversity for the Noosa region. Programs to train and educate prospective farmers, developing carbon capture and storage, along with potential Agri-tourism opportunities are areas for our own Western Port Biosphere to explore.  Improved Agri business will perhaps lessen the focus on the more intrusive industry of tourism.
Of course tourism can be sustainable and eco-friendly. We took time to join a Noosa North Shore kayak trip, and were treated to thrilling sites of turtles, many shorebirds, fishes and a huge, graceful manta ray, all explained and guided by a delightful ecologist. The flora and fauna in the National Parks at the core of the Biosphere is certainly world class and deserving of its its UNESCO recognition.
Visit to French Biospheres May/June 2022 – by Isabelle Higgins, Biosphere Foundation Board Secretary
With borders reopening, I was able to go back to see family and friends in France.  I also took the opportunity to visit some of France's 13 UNESCO Biosphere reserves.  As volunteering in France is not common, Biosphere reserves are operated by the government organisations running the National or Regional Parks of the biosphere area.
– Cevennes Biosphere reserve was recognised by UNESCO in 1985. It is quite large at 3050 square kilometers. Its limestone plateaux, 'Causses' are stunning geological formations where vegetation is very limited. The area is also famous for its menhirs, its caves, its vultures and for its Roquefort cheese made from the milk of the many sheep grazing the land. For more info, see https://en.unesco.org/biosphere/eu-na/cevennes
– The Marais Audomarois in the North of France was designated a Biosphere reserve in 2013. It is much smaller at 225 square kilometres and contains at its core a Ramsar wetland that was modified in the 7th century by King Dagobert to cultivate the rich soil. Still today a large portion of the wetland is cultivated mainly for cauliflower. I was able to talk to the biosphere staff who gave me a sample of the newsletter they send to all residents in the biosphere every year.  For more info, see https://en.unesco.org/biosphere/eu-na/marais-audomarois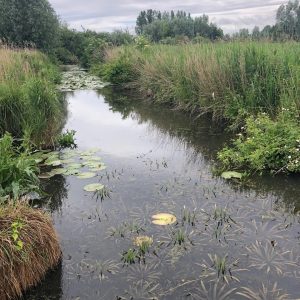 – The Luberon in Provence was designated a UNESCO Biosphere in 1997. It has stunning hill cliff villages, lavenders and olives fields and around Roussillon, a small remaining ochre industry. This industry was booming in the  first half of the 20th century before ochres were replaced by pigments. For more info, see https://en.unesco.org/biosphere/eu-na/luberon-lure
And to top it off, while not a UNESCO Biosphere, my family lives in the UNESCO listed World heritage in the North of France, Nord-Pas-de-Calais mining basin where coal was extracted till the late 1900s and where my grandfathers and father worked.  For more info, see https://whc.unesco.org/en/list/1360/