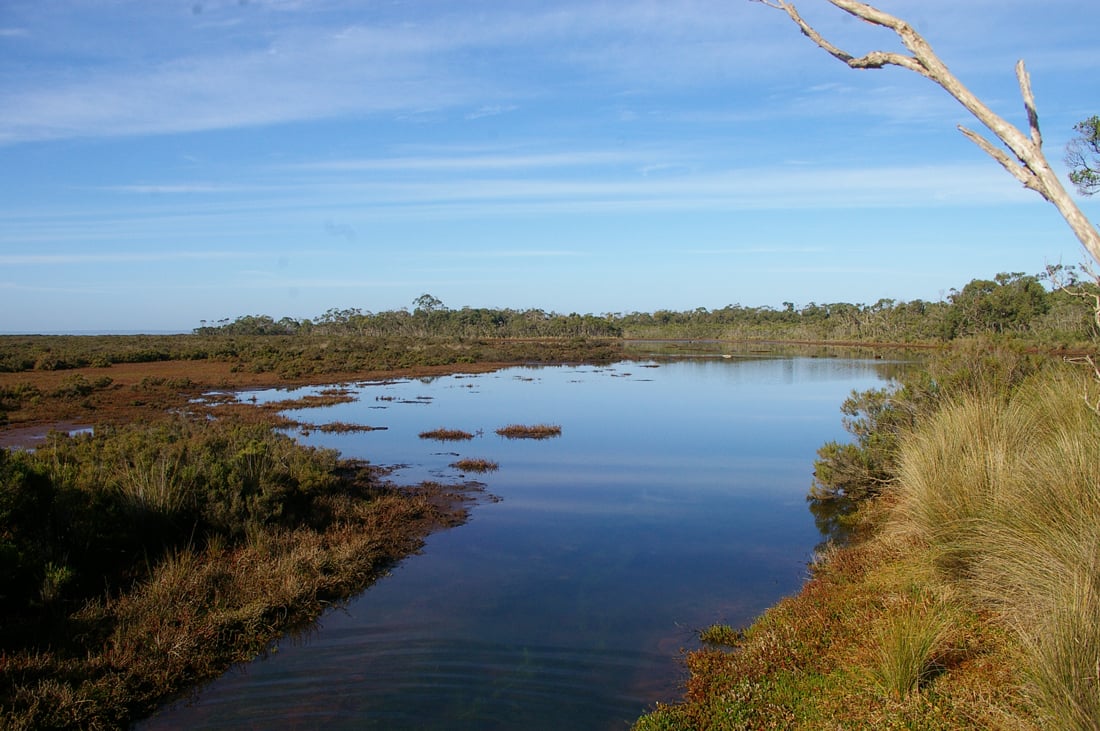 Connector Newsletter Issue 37
A Drought Resilience Initiative in the Fitzgerald Biosphere 
April 11, 2023
By Annie Leitch
Throughout the Fitzgerald Biosphere, over 1.13 million hectares make up our transition zone, host to communities produced from its main industries – mining, tourism and most of all agriculture. Agriculture in the southwest is currently a thriving sector but achieving sustainability requires proactive management of the many risks facing our farmers.  
Although above average rainfall was received in the past 2 years, climate models show high confidence that across southwest WA, there will be less rainfall in winter and spring and that annual rainfall will continue to decline until the end of the century.1 Compared with 40 years ago, the region has lost a third of its 10mm and 25mm rainfall events making its natural catchments less effective in addition to studies that have shown that for every one millimetre of lost rainfall about three millimetres of run-off are lost – consequently making it harder to fill dams.2 In this projected drying climate, re-engineering dams to capture more water and reduce evaporation will become increasingly necessary for best practise farming. 
With most dams built to the needs of more "traditional" farming systems with outdated temperature and rainfall data, supported by funding through the Federal Government's Future Drought Fund, the Grower Group Alliance through the South-West WA Drought Resilience Adoption and Innovation Hub, is collaborating with Department of Primary Industries (DPIRD), the University of Western Australia (UWA), the Fitzgerald Biosphere Group (FBG) from Jerramungup (with 3 other regional partners elsewhere) and local farmers to roll out 'WaterSmart Dams – making dams work again'. 
The project involves re-visiting existing dam technologies in dam expansion or re-design, as well as gathering relevant data. Additionally, the influence of good catchment design is recognised, along with the ability to be best placed to capture available rainfall, or even dews. Last but not least, the importance of quality cannot be underestimated (i.e. cropping and livestock), and this also forms a large part of this project. 
Overall, the WaterSmart Dams project represents an important collaboration between government, industry and local farmers to research and address the nuanced sustainability challenges our regional agriculture sector is facing, which makes it an extremely interesting project to follow for those within the Fitzgerald Biosphere.  
Drought resilience is the ability to adapt, reorganise or transform in response to changing temperature, increasing variability and scarcity of rainfall and changed seasonality of rainfall, for improved economic, environmental and social wellbeing. Drought Resilience Funding Plan (2020–2024)
https://www.agriculture.gov.au/sites/default/files/documents/fdf-annual-report-2021-22.pdf
To follow the project work, sign up to the project follower list here: https://airtable.com/shrbSMI1h00AyoQCh 
[1] South-West WA Drought Resilience Adoption and Innovation Hub Regional Industry Snapshots, https://www.gga.org.au/wp-content/uploads/2022/09/20220902-South-West-SW-WA-Hub-Situational-Analysis-DRAFT.pdf
[1] South-West WA Drought Resilience Adoption and Innovation Hub Regional Industry Snapshots, https://www.gga.org.au/wp-content/uploads/2022/09/20220902-South-West-SW-WA-Hub-Situational-Analysis-DRAFT.pdf