Corey Everitt- Journalist for Pakenham Gazette
This year, ecologist Kelly Smith made the vital discovery that Strzelecki Koalas reside in the Grantville Nature Reserve. Kelly's important work is opening up projects that hope to further assist the enduring, yet still very much endangered koala.
Starting out as a veterinary nurse, Kelly has come across her fair share of koalas, but she may not have realised that through her further studies in ecology, koalas would become a central part of her work.
Such work with this iconic animal in the wild is rarely with direct contact, but rather with what they leave behind.
The story would begin when Kelly was studying koalas at Federation University.
"It started with my third year project at uni, so that was with the Mornington Peninsula koalas and that was a genetics study exactly like this," she said.
"Using volunteers to collect scat for that."
An important part of such work is the collection of koala droppings in the locations they reside, from such samples, tests can be conducted that reveal the genetics of koalas in a location, vital to understanding important factors like genetic diversity or even whether koalas are around at all.
It was in further study that Kelly would branch over to Western Port Bay.
"And then I was asked to do an honours on the Mornington Peninsula as well, part of the honours, we did at the end of it branch out and get scats from across here and in other parts of Victoria," she said.
"As part of that honours project I found that there was one koala in Grantville."
This year, Kelly would be hired by Western Port Biosphere as the organisation's Koala Project Officer.
Her result of one koala in Grantville was something she wanted to pursue further with Western Port.
"I found one and that was like okay, there must be more, so then after I finished my honours I got a job with the Western Port Biosphere and got a Melbourne Water grant to do this project."
"And then we found more koalas."
Kelly and volunteers would discover two more koalas in Grantville.
While also going on to discover a few koalas living in Inverloch and Cape Paterson.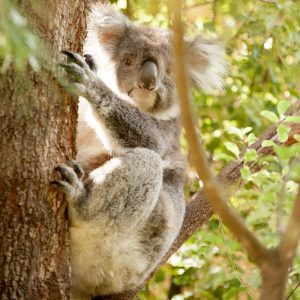 Three koalas in Grantville is not enough to declare a sustainable population but it's a promising sign of koalas residing in areas where we have completely dismissed their presence.
"It's just showing, okay they're here and this is the extent of the boundary of the genome which extends to Western Port Bay," Kelly said.
The biggest factor of this discovery is these are Strzelecki Koalas, also known as the South Gippsland Koala.
They are a unique genome of the species that, as of now, is known to be isolated to South and East Gippsland.
"Strzelecki genome goes as far as Sale that we know of," Kelly said.
"So now it's a question of how far that genome extends from Sale and into Western Victoria."
The Strzelecki Koala has a unique history and survival on mainland Victoria which means they represent a unique genetic branch that is vital to study and conserve for all koalas.
"They haven't been affected by the trans-located koalas that were used as a breeding program back in the 1900s," Kelly said.
"So they weren't affected by the hunting as well, back in the 1800s.
"I think there is about 2500 left, they'll be okay if we stop chopping down all the trees."
In the late 1800s, koalas in Victoria were rapidly declining due to hunting and deforestation.
As an attempt to conserve their numbers, a small population was relocated to French Island as part of a long-term breeding program to increase their numbers for mainland reintroduction.
These efforts expanded to other pockets such as Phillip Island.
Due to this breeding program koalas did retain their population to exist, so much so that a majority of existing population today are derived from that original French Island genome.
Though the program was to save the population, the confines of an island purposed to isolate them from threats also presented long-term problems that still affect koalas today.
Predominantly with genetic diversity and over-eating.
Confined from movement, inbreeding was prevalent in koalas, risking serious genetic complications, from reproduction to disease, in whole populations for koalas.
Koalas on Kangaroo Island, just off South Australia, where similar breeding programs occurred in the 20th century, were found to be of poor reproductive capability in 2020, with many male koalas found to be defected with only one testicle.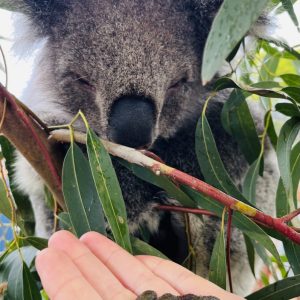 As these islands today are classified to have an abundance of koalas, so much so they are labelled pests, ecologists for years have raised the need to diversify their genetics, a need that could risk extinction if not addressed.
With some many confined on these islands, they breed rapidly and over-feed, practically stripping fields of eucalypts bare of their sole food source.
Without anywhere else to go, they starve, a leading cause of death for koalas.
In this circumstance, the Strzelecki Koala stands out.
In an article called the 'The Significance of the Strzelecki Koala', published by Friends of the Earth (FOTE) in 2020, it's detailed how the koala miraculously hanged on and provided an important factor to recovering koala numbers and diversity.
In the 1920s, koalas were thought to be extinct on mainland Victoria, however a government survey noted at the time there were 'remnant' populations of koalas in "near the southern Victorian town of Yarram on the south eastern edge of the Strzelecki Ranges", as the FOTE article wrote.
Little did they know at the time that these koalas, untouched by the French Island-derived programs, would survive up to today, although still in very small numbers.
With a unique genome, they are vital koalas who can assist in the important need for genetic diversity.
It was last year that Koala Life, a not-for-profit organisation supporting koala conservation, relocated four Strzelecki Koalas to South Australia to mate with Kangaroo Island Koalas.
It is unknown as of yet the success of the program, but the mixing of different koalas from across the country is vital.
For Kelly, her discovery of the koalas in the Grantville hopes to get people onboard with two things: more effort to accurately map out the extent of koalas in Victoria and the country, as well as more effort to link them together through the bush.
She would contact the Department of Energy, Environment and Climate Action, and her work got their attention.
"After this project, I sent this through to the government and asked them for funding and they've actually asked me to come on board their population survey project, doing this exact work across Victoria," Kelly said.
"We now know they aren't just in this bubble, they are extended, quite possibly right across Victoria, we just don't know because it hasn't been researched."
The State Government's Victorian Koala Management Strategy, released this year, largely focuses on measures to control their populations on the coastal islands, where they are classified as abundant.
But the mainland can tell a different story and with such surveys, Kelly hopes we can get a clear picture of koalas in the state, especially with the Strzelecki Koala which is far from abundant.
"I found three in Grantville, you wanna find more than that to define it as a population," Kelly said.
"We need to know that there are more of them, because the more there are, the stronger the genetic diversity will be."
While another issue is the available habitat for however many koalas are out there.
In our corner of the world, where koalas used to roam freely, the years of land clearing and grazing have limited their movement and space on the mainland.
In many ways, the koalas are just as much stuck in islands locked by roads and farms, as much as their counterparts locked in islands surrounded by the sea.
"If you look at the satellite map it's all just cleared, but they would of all been here and you look at Grantville and it's just this island with very little corridor connections," Kelly said.
"And there is just hardly anything at all, except for the shoreline from Tooradin to here.
"If you've got fires, we're gonna have more and more fires, those animals and plants can't move North East, South West, they're stuck.
"And then eventually they become locally extinct in that part of the bush and they can't interbreed."
This is the reason for Western Port Biosphere's upcoming biolink project.
The aim is to provide avenues or corridors of vegetation that link various habitats across the Western Port area and surrounds.
Doing so can help koalas, and every other native fauna from birds to bandicoots to link up and spread their population, increase diversity, enrich plant-life and other conservation factors.
The plan will hopefully allow itself to link with other biolink projects. The biggest element at this stage is showing how landowners and farmers are a vital part of its success.
"The plan is to be able to connect Mornington Peninsula to here, that would be the end goal which could happen if we work together," Kelly said.
The first stage of the project is working with landowners to revegetate parts of their property, which will be a free service by Western Port Biosphere.
"Landholders can just register to have their property planted for free, we'll figure out the rest, we'll organise all the funding and anything that needs doing," Kelly said.
"We'll assess the property, see what needs doing, if it needs fencing, if it needs weeding, we can help them sort it out, easy.
"Property owners can do their bit by planting out their land not just for animals, but for their property, it benefits the soils, it benefits the water, it's windbreak, there are so many benefits."
The project will be announced in the coming weeks, in the meantime property owners in the area can register their property by contacting Kelly at [email protected]
Kelly will also be running information sessions across Gippsland on scat locating and how to identify koalas.
With dates and times to come, you can stay in contact regarding the sessions through her email.
---