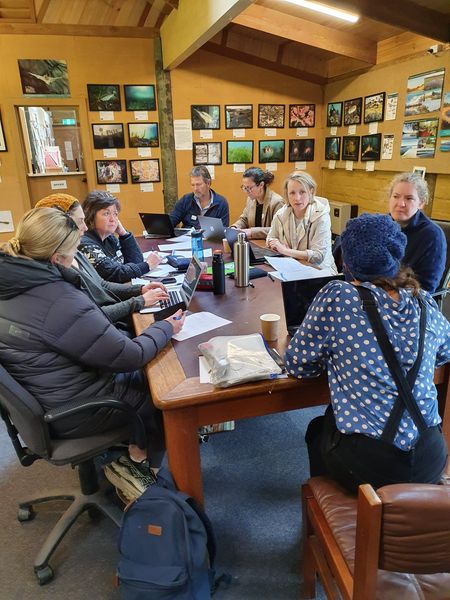 By Glenn Brooks-MacMillan, Biosphere Foundation Program Manager
Water Stewardship – Environment Restoration Fund
As we enter into our last reporting period for our three-year Water Stewardship program, thanks to the Federal Government – Environment Restoration Fund, we are now beginning to workshop some of our water plans with each of the water stewards. This process involves going through in more detail some of the risks and opportunities identified through the assessment stage. These workshops are an opportunity for each landowner to work collectively with other stewards and trainers to clarify and build solutions in a one-on-one environment.
Our first workshop for this period was at Coolart in Somers. We conducted two workshops in one day with private businesses, schools, government, and private landowners broken across the day in two sessions.
The aim of the workshop is to assist the landowners come up with actions that are achievable. Coming up with a date to complete an action can be difficult to plan at times and being able to brainstorm options with like minded landowners is a real positive feature of the program.
Some of the actions being planned include:
Development of wetlands/swamps/billabongs
Modifying water channels and diverting to natural creeks and wetlands
Undertake water quality testing
Management and eradication of pest weeds and animals
Planting of indigenous vegetation along dam banks and waterways
Install fencing around dams and provide troughs for stock watering
Monitor and record water use on the property
These actions are considered and committed by each of the landowners and becomes part of their water plan.
We are looking forward to following up with landowners in the coming weeks to help complete their plans and get them started on their actions.
For the rest of our catchments, we are aiming to conduct more workshops to include landowners on Phillip Island (Bass Coast Shire), Frankston and Cardinia Shires and City of Casey.
Our aim is to have completed all of our plans by this Christmas which will pretty much finish this project ready for new initiatives in which we are seeking further investment from key stakeholders.
---
Blue Carbon Mapping
Our Blue Carbon mapping project across Port Phillip Bay and Western Port with the Blue Carbon Lab at Deakin University has progressed well with three milestone reports received so far. Milestone one helps us better understand where Blue Carbon was present pre-European settlement and where it exists today. The maps are showing areas for restoration, but it also shows there are seagrasses present now where they weren't in the past. One reason for this might be the fact that there is limited information available on the extent of seagrasses in the past. Another reason might be the movement of sediment in the bay may have made it easier to establish now in some areas and not in others. The next milestone shows us where there are opportunities for restoration, with some initial estimates showing over 800 ha available for restoration. The third and current milestone is informing us on the co-benefits of these restoration opportunities. This includes carbon sequestered, nitrogen absorbed, kg's of fish increased as well as increase in fish for recreational purposes. Some of the other co benefits includes the number of houses protected through coastal protection. This step compares the co-benefits as of today and then compares to what it might look like if the restoration works are implemented. We are now looking forward to the next milestone which is around a 'road map' for our councils on a proposed way forward. In readiness for the final report in November we will also be creating a story map to help share the information in a way that is more understandable and practical for each of the council partners.
---
Western Port Bryozoan Reef project
The Western Port Bryozoan Reef Community is a 1.74 km2 species rich, subtidal biogenic reef located in the Rhyll Segment of East Arm, Western Port, Victoria. While bryozoan reefs are distributed worldwide, the Western Port Bryozoan Reef community was formally described in 2017 and is unique in its species composition, depth range, and extensive linear mound formations. Bryozoans are non-photosynthetic invertebrate filter-feeders, which live in colonies and are commonly referred to as 'lace corals' owing to the delicate calcium carbonate matrix they produce. The biogenic reef substrate is comprised of three species of bryozoan that form large colonies of up to 1.5 m vertical relief. The Western Port bryozoans are special because they are shallow, large and form contiguous reefs providing important habitat for a multitude of marine species including fish, molluscs, crustaceans and worms. They also provide shelter for some species from the strong currents that are typical of this marine waterway.
Through money raised from the End of Year Financial campaign we are supporting a project that will enable local scientists to expand their research into Western Port's bryozoan reefs. The research project, spearheaded by La Trobe University and marine consulting and research firm, Fathom Pacific, will quantify the extent of these fragile reefs, the processes that threaten and make them vulnerable, and will shed light on their growth rate. At present, there is no long-term datasets available on the previous known extent of the reefs as the community. It is hypothesised that the substrate that originally supported the settlement and growth of the bryozoan reefs is no longer present, and that new recruitment is limited today to on-reef growth rather than lateral expansion. Sediment impacts due to land use changes and historic oyster dredging in the area may have fundamentally altered the availability of substrate suitable for larval settlement (Ford & Hamer 2016). This leads to the hypothesis that deleterious impacts to the Western Port Bryozoan Reef community may be irreversible.  However, it is hoped that this research gives insight into ways to conserve the remaining reef and generates ideas for evidence-based methodology to create conditions for restoration and growth.
---