Colette Day, MAppSc, BSc chem/Biochem, Grad Dip Marketing, Grad Cert BA
Western Port Biosphere Reserve Foundation Director and Chair of the Foundation's Science and Education Committee 
It's easy to be confused.  Simple decisions like purchasing food, or even planning your day, depend on some understanding of the needs and insight into the future.  When we think about our bigger future and then factor in the many challenges that face us, the vision is not clear.  Clearly, tomorrow will not be like today.
Climate change dawns as reality touching every facet of life on Earth, but humans still hold a bunch of keys to open doors to alternative future scenarios.  Tomorrow the activation of technologies pushing the frontiers of communications, energy, food production, environmental monitoring, even space will impact on the way we live and interact with our world.  To know which keys to use and what paths to take requires a vision of the future.  And so the confusion.
For the past three years I have had the opportunity to follow research at the University of Melbourne, studying future visions of food production from the perspective of the consumer, for optimised supply chain and sustainability.  It ultimately led to my involvement in the development of a community garden growing indigenous crops in the seaside suburb of Seaford, part of the Mornington Peninsula and Western Port Biosphere.  This is all on the pathway to my vision for the future.
We heard from our researchers at the Faculty of Business and Economics, "that utopian visions of ordinary people can motivate them to engage in social action to change their society" (Fernando, Burden, Ferguson, O'Brien & Kashima, 2018).  Understanding ordinary people's visions of the future allows us to understand what futures can be created.  Their research of consumers identified three utopian future scenarios for food production in particular, each with different technologies that enable them to happen.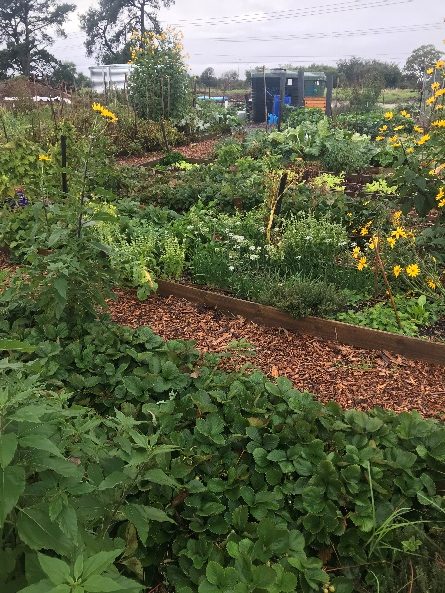 The Classical Arcadia, which rejects science and technology and longs for simplicity; almost a back to nature without going off the grid.  This vision focuses on land management and animal welfare using artisan and hand-crafted methods and heritage breeds and seeds.  The pathway to this future depends on access to natural and organic food systems.
The Ecotopia – a middle ground between arcadia and super science.  A mix of science and technology with good social institutions, co-existing with the natural environment.  Ecotopia feels more familiar; the future version of this focuses on hydroponic farming with closed systems to ensure clean water and the right amount of nutrient when needed.  Urban Agriculture including roof top farms, possible botanical and natural fortification of food to feed cities.  Food and health are linked by access to clean, local, potentially fortified food systems.
The Sci-Fi bravely embraces super science and technology, and hopes that all human desires are satisfied through the application of this.  3D printing, non-meat protein varieties including in vitro, insects, and various forms of plant protein to deliver personalized nutrition.  Food and health are linked by access to personalized food systems to fit the individual's health needs.
Utopian visions reflect the 'desire for a better way of living' (Levitas, 1990).  Understanding the visions allows us to understand what futures can be created and which pathways will lead us there.
Further research by Faculty of Veterinary and Agricultural Science of over 7000 consumers showed a promising future for community food hubs to deliver to the desire for a better way of living.  Central to this local food hub model is the provision of a values-based access to local and fresh food.
This means that a local community food hub provides information to the customer on provenance, confidence in supply, variety and expert knowledge about usage.   It can give the grower confidence that the crop will return a premium price and security to develop sustainable practices.  This will in turn drive economic growth and employment opportunities.
From a sustainability focus, research shows increasing human population and demand for more and nutritious food, and a disconnect of consumers from diversified diets have changed the way we produce our food.  To meet the dietary requirements of a growing population, intensive food production has become reliant on a few staple crops and chemicals which has proven to be unsustainable for the long-run.  At the same time climate change has jeopardized sustainability of our food production system from soils to plant health and the production environments.
Research told us that one of the key drivers to mitigate these challenges for sustained environments and food production strongly urges diversification of our food production system potentially through inclusion of long-forgotten indigenous crops (Hollis Ashman, 2019).
These gems of insight have motivated my colleagues and the Down's Estate Community Garden to develop this sustainable agriculture model for reviving indigenous plant cultivation, to demonstrate to home gardeners how simple and suitable these plants can be to grow and how they can even provide produce to sell to restaurants and local grocers.  In addition, the food scientist at the University builds knowledge to promote the public health, and environmental benefits of this type of agriculture.  Our project involved identifying crops for trial, observations on soil and water management, chef engagement workshops, recipe development, and exploring local distribution models, all done within the framework of local community engagement, culture and history.  This is our pathway to an Ecotopian vision where food production and public health are linked by access to clean, local food systems.
The vision espoused by Bruce Pascoe's recent article toward 2030 entitled "Brave Old World", talks of the indigenous people of Australia taking control of their heritage right as Traditional Owners to cultivate these plants for the commercial benefit of our First nations people.  His vision and ability to motivate social action is a clear pathway to achieve success and I can only hope that these pathways align with others to facilitate an Ecotopian vision for a better future.
Whatever your vision is of the future, your actions can help bring it about; in the way you choose to consume, in the way you choose to treat others and in the way you choose to live in your environment.  Your level of motivation and action can impact the speed and distance along your pathway.  It also follows that leaders of the community must hold clear visions, well supported by science and understanding of the values of their constituents.  Leadership from governments and business, selection of technologies and community engagement are all available to harness if the vision is clear.
---