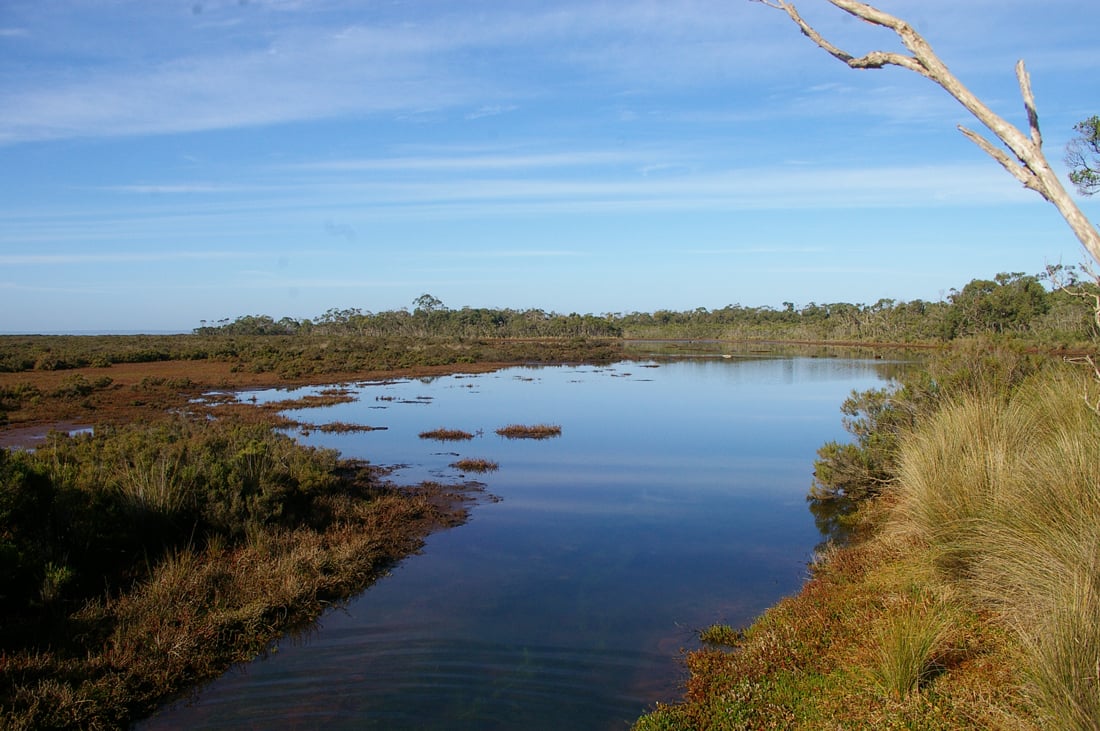 Watson Creek flows through a relatively small catchment area (less than 70 km2) on the Mornington Peninsula, within an hour's drive of Melbourne.
The headwaters of Watson Creek are in Frankston South. The creek passes through Somerville and Pearcedale, before entering the waters of Western Port at Watson Inlet and into Yaringa Marine National Park. This is home to internationally significant mangrove communities (Ramsar listed), migratory bird populations, some of Victoria's most extensive saltmarsh habitats and highly significant seagrass and mudflat communities. As a signatory to the Ramsar Convention of 1972, Australia has an international obligation to preserve and protect these areas.
The creek and catchment have been significantly affected by urban and agricultural development. Historically, Watson Creek has gone from being a system of swampy creeks and wetlands, to a series of channels and drains, but a small and significant 15% of the native vegetation remains. Our collective work on water and catchment management can help improve these conditions, benefiting the ecosystems along the creek and in the Yaringa Marine National Park.
The Watson Creek catchment was identified as an ideal area to trial the development of an integrated catchment management process. With initial funding from Melbourne Water, Parks Victoria and the Mornington Peninsula Shire, the Western Port Biosphere Reserve employed a part-time project officer. During this initial stage, steps were taken to determine the issues relating to the creek's poor water quality.
What emerged was recognition of the need to build bridges between landholders, the community and agencies, and the Western Port Biosphere Reserve developed the Watson Creek Agreement (WCA) to achieve this.
Watson Creek Agreement
This agreement was launched on 12 June 2007 in order to emphasise a "no blame and equal responsibility" approach to improving the water quality of Watson Creek.
The agreement was signed by Mornington Peninsula Shire Council, City of Casey and Frankston City Council, local schools, community groups, Landcare, the Vegetable Growers Association, Inghams Chickens, Melbourne Water and Parks Victoria. It has built a solid foundation of trust and strong partnerships with market gardeners and landholders within the catchment.
We, the undersigned, agree to and understand the following:
That Watson Creek, which flows into Yaringa Marine National Park, needs active assistance to improve its quality and condition.
That the poor condition of Watson Creek is due to human impact.
We resolve to:
Work together in a collaborative and co-operative way to achieve improved water quality for Watson Creek.
Refrain from passing blame or full responsibility onto any one source of pollution – we all contribute and must bear responsibility for our actions.
Acknowledge and allow for each other's differing view points and motivations, without letting small differences become big obstacles.
Share our different knowledge, experience, skills and insight.
Implement measures to improve the water quality of Watson Creek that also have beneficial outcomes for the wider community, businesses and Yaringa Marine National Park.
Ongoing Activity
The Watson Creek catchment is now the focus of the initial stage of the Western Port Biosphere's Water Stewardship Project, which is helping landholders develop water stewardship plans for their sites and farms in order to protect the unique values of the Watson Creek and Yaringa Marine National Park (and later on the whole Biosphere region).
The Mornington Peninsula Shire is one of our Water Stewardship partners. The Shire, along with Melbourne Water, is undertaking an investigation to develop recommendations for the long-term health of Watson Creek. You can contribute to this process by participating in a community survey to better understand perceptions of Watson Creek. You can click on this link to contribute your views to the survey.