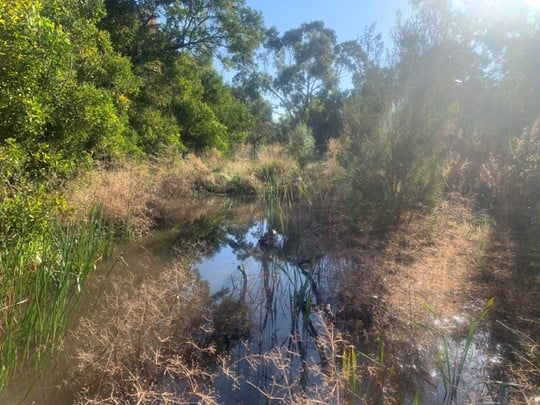 Healing Water Country Project
Community, Connection and Conservation form the foundation that underpins the Healing Water Country Project.
The concept for the project evolved in early 2021 through conversations between Willum Warrain and the Western Port Biosphere Foundation. This led to a partnership with Willum Warrain to design, plan, implement a project that supports and will maintain the conservation of the local waterway and surrounds, whilst fostering connection with community.
The goal is to restore the creek so that it becomes a functioning habitat corridor, thereby supporting the conservation efforts underway at either end, while also restoring more natural drainage. Additionally, by incorporating community engagement events involving many Willum Warrain members into the project design, we can generate the public momentum to restore and protect their environment.
Funding for the Healing Water Country project was sought from various sources. It was eventually sourced through Esso's Community Engagement and Partnership Program, which includes provision for community programs located near one of their major facilities, in this case, Long Island Point. The corporate contribution from Esso is consistent with UNESCO's ambition for Biosphere Reserves to involve all interested stakeholders in planning, management and project delivery.
The Western Port Biosphere Foundation prioritises to work within the internationally recognised UN Sustainable Development Goals (SDG's), including SDG 17: partnerships for the goals. These SDG's are the foundations upon which we scope, deliver, measure and report on our objectives and outcomes.
Biosphere reserves are 'learning places for sustainable development'. They are sites for testing interdisciplinary approaches to understanding and managing changes and interactions between social and ecological systems, including conflict prevention and management of biodiversity. They are places that provide local solutions to global challenges.
The Healing Water Country project is situated entirely within the Western Port Biosphere Reserve.
Detailed plans are currently under development, with deep consideration to the underpinned foundations of the project of community, connection and conservation.