Workshops for Schools – Term 4, 2023
The Biosphere Foundation has a small team of experienced educators, passionate about bringing the magic of the Western Port World Biosphere Reserve to life for students across the region. As a not-for-profit organisation, we work to raise awareness about the unique area we live and work, which is recognised internationally by the UNESCO World Biosphere Reserve program and for its wetlands and migratory shorebirds through the Ramsar Convention, and strive to deliver projects and programs aligned with our three core values:
Climate action
Environmental protection and restoration
Sustainable development
We offer workshops on these topics to all schools situated in the Biosphere Reserve boundary of the Mornington Peninsula, Frankston, Cardinia, City of Casey, and Bass Coast, including French Island and Phillip Island and these can be delivered as incursions or excursions. Workshops are delivered at a cost of $15 per student, excluding transport costs (minimum numbers apply). See below for details.
New for 2023 – Koala Awareness
We are lucky enough to have welcomed onto the team Kelly Smith, a Wildlife Ecologist working across Western Port to discover the number and distribution of koalas and to determine the types of koala found here. Across the region in the nineteenth century koalas were almost hunted to extinction. This prompted a huge effort in the twentieth century to repopulate through a breeding program that stemmed from a small number of breeding pairs. This created a tiny gene pool, causing koalas to be susceptible to disease and other stress factors.
We now know that the koalas of South Gippsland are remnants and of 'special significance' because they have a greater genetic diversity and were not affected by hunting and translocations. We need to find how far this genome extends across Victoria. Are there other remnant koalas? Remnant koalas have a greater genetic diversity compared to the translocated koalas and are better able to withstand environmental changes and disease outbreaks.
Kelly is determined to find out just how many there are and she's looking for volunteers to help. If your school is interested in finding out about how to track koalas, conserve and protect them, join us for this wonderful new workshop to discover more.
See our hot topic for more details about the program and click on this link to contact Lucy Kyriacou, Project Manager, to make a booking.
Climate Action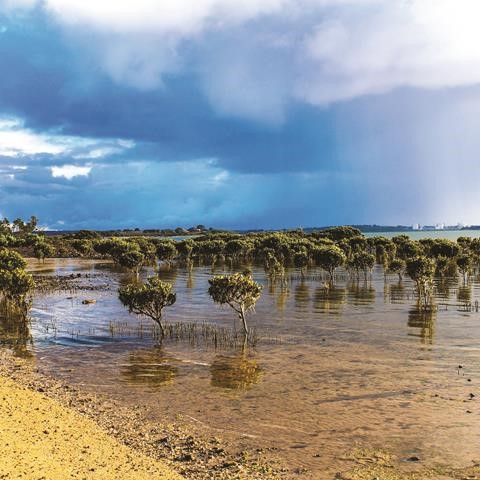 Blue Carbon – In 2022 we worked in partnership with the Blue Carbon Lab, Deakin University, to map the blue carbon ecosystems of Western Port. Blue carbon ecosystems include mangroves, saltmarsh, and seagrass meadows, and have been tipped as having enormous potential in the race to mitigate against the worst effects of climate change.
We are offering schools the opportunity to learn about these ecosystems in an interactive and immersive workshop from one of our experts. You have the chance to either meet us at a beach to explore the wonder of blue carbon habitat, or we can bring the ecosystem to you as a fun-filled incursion with plenty of mangroves, seagrasses and other species brought to the classroom.
Please click this link to contact Lucy Kyriacou, Project Manager, for more information, or to make a booking.
Environmental Protection and Restoration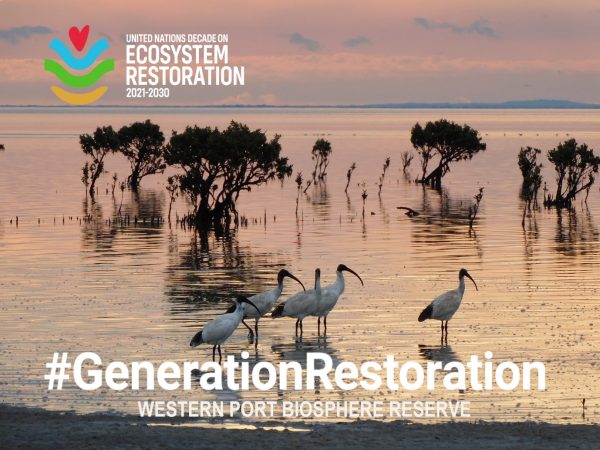 Migratory Shorebirds – Western Port is recognised through the Ramsar International Convention on Wetlands for its wetland habitats and their importance for the world's migratory shorebird populations. Every year over 20,000 shorebirds spend their summer in Western Port eating and preparing for the 6000km trip to Siberia where they lay and hatch their chicks, before flying all the way back again. The Biosphere Foundation has a long history of raising awareness about the birds and their flyway routes, as well as on-the-ground conservation work to protect wetland habitats.
We are offering schools the chance to learn about the shorebirds, their flyway routes, food sources and wetland habitats, in a fun and interactive incursion, guaranteed to inspire the next generation of twitchers (bird watchers).
Please click this link to contact Lucy Kyriacou, Project Manager, for more information, or to make a booking.
Sustainable Development
Nature Based Therapy – Western Port is one of just four UNESCO Biosphere Reserves in Australia, making it a very special place to live. UNESCO has set 17 Sustainable Development Goals to help shape a sustainable and ethical global society. SDG 3 is Good Health and Wellbeing and this term we are offering schools the opportunity to immerse themselves in nature through Nature Based Therapy. We have two qualified Nature Based Therapists on staff, and they can support your students on a journey of discovery in nature. Activities include, but aren't limited to, using the senses to tune into the world around, journaling, observing patterns in nature, photography, mindfulness, imaginative play, building shelters, and art using natural materials.
Please click this link to contact Lucy Kyriacou, Project Manager, for more information, or to make a booking.
We are also able to support and assist in the design and delivery of environmental and sustainability initiatives at your school, for example projects to improve the campus for wildlife and biodiversity, indigenous habitat, and water stewardship, through the international Water Stewardship framework model. These are costed up according to the specific project requirements.
Please click this link to contact Lucy Kyriacou, Project Manager, for more information.