Lucy Kyriacou- Project Manager
It's been a busy start to the new financial year with multiple projects being managed across the talented team. Projects ranging from small budgeted initiatives, such as supporting community groups like the Friends' Of Haig Street, Bittern, turn a weed infested paddock with low biodiversity value, into a haven for wildlife, to multifaceted projects with multiple elements and stakeholders, such as the blue carbon planning project, which aims to plan for the future of coastal wetlands on a site-by-site basis across Western Port to support landholders to conserve and enhance these incredible ecosystems.
Read on to find out more.
Blue Carbon planning:
World Mangrove Day, on July 26th, saw the first stakeholder working group meeting take place in the Tooradin District Sports Club, nestled among the mangroves of the area. The day was a huge success, bringing together over thirty project stakeholders, including representatives from schools, DEECA, OzFish, Blue Carbon Lab, the Seagrass Partnership, Landcare, Councils, Moonlit Sanctuary, Nature Parks, and local landowners and landholders, to enjoy a schedule that included a mangrove walk and talk, and presentations from guest speakers, including Adrian Flynn from Fathom Pacific and Dick Cox from the Seagrass Partnership. The group participated in a workshop to gather foundational information for the blue carbon site assessments and management plans, and to start to consider areas of particular interest for the project and mark them on maps of Western Port. We were able to share with the group the work that the Blue Carbon Lab has commissioned for the seven neighbouring councils on 'Blue Carbon Opportunities' in the Mornington Peninsula & Western Port Biosphere Reserve. This work included a series of maps that shows the state of Blue Carbon before European settlement and the condition today. This information informed the participants and assisted them input their knowledge into areas for consideration for further planning. A summary of the report can be found here as part of a story map Blue Carbon in Western Port and Eastern Port Phillip Bay (arcgis.com).
The assessors have been busy over the quarter visiting properties and blue carbon ecosystem areas to connect with owners and experts around Western Port and build support for the project. Property owners have been interested to hear about the potential gains to be made for wildlife and to protect their productive land by conserving and enhancing blue carbon. Some landowners are already getting straight into it with installing exclusion fencing to help protect saltmarsh. One landowner did not realise that by removing a levee at the bottom of the property and letting tidal inundation happen they could create blue carbon habitat and improve the land's ability to cope with sea level rise and increased intensity of storm surges. They said they would be very happy to look out across wetlands in the bottom paddocks. The aim of the project is to do a detailed business case on improving these ecosystems for each property, helping the landowner to make a more informed decision on what they would like to do. There is growing evidence demonstrating that enhancing nature on farms increases productivity. More lambs survive because they are protected from the elements, and milk yields increase for dairy cows while beef cows gain weight, expending less energy by not having to keep hot or cold as they are protected with vegetation from wind and the sun. Access to cleaner and cooler water is also shown to improve productivity.
In September we held a day to work with some of the leading technical experts in marine science and blue carbon in Western Port to start the design process for the blue carbon site assessment templates. Coastal wetlands are complex ecosystems with multiple elements to consider, and still much unknown about them, so any intervention to restore or protect them must be done with caution.
The Blue Carbon planning project is being supported by experts including Fathom Pacific, marine consultants with a long history of research and conservation in Western Port, Bass Coast Landcare, who have much experience in catchment management and mangrove restoration, Lance Lloyd, Aquatic Ecologist and Water Stewardship Advisor, with a career in hydrological systems management, and other experts such as Dr Pat MacWhirter, and saltmarsh and indigenous plant botanist, Gidja Walker.
In addition, we had planned for the day a cultural awareness event at the Bunurong Land Council Aboriginal Corporation venue in Frankston, to help raise our awareness on the cultural history and specifically the links in with healing water, sea and land country with opportunities to include First Nations perspectives in the design of the restoration activities.
We would like to thank everyone for their interest and engagement in the project and look forward to working together to achieve Western Port-wide blue carbon protection.
Please go here for more details about the project.
Blue Carbon planning in the Western Port Biosphere Reserve 2023/24 – Western Port Biosphere
Water Stewardship – public fund: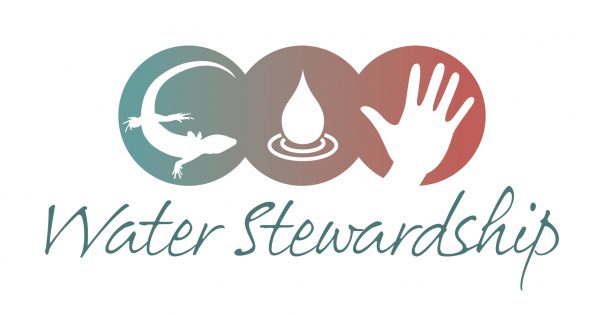 $30,000 of the Public Fund, created through the kind donations by members and other donors, has been allocated this financial year to continue our work to create a network of Water Stewards across Western Port to improve catchment management practices, enhance water quality and conservation, and increase the value of properties for biodiversity.
This quarter has been the initiation of this process, with Water Stewards contacted and offered renewed support for their water stewardship ambitions. The team has been revisiting landholders, reviewing plans, updating action plans, and setting new goals for the future.
Many gains can be made from planting up and mulching riparian zones with indigenous species. This prevents erosion, slows the movement of water through catchments, and helps reduce the impact of flashy flows in times of high rainfall. It also has the added value of increasing habitat and improving the whole property's value for biodiversity. Water Stewards such as Somers Camp, St Mary's Primary, and Luxton Park have put in orders for large numbers of plants to achieve these goals on their properties.
This phase of the project also aims to support water stewards access funding through grants and to improve stakeholder knowledge of the cultural heritage values of waterways by engaging Traditional Owners to offer advice and, where applicable, carry out cultural assessments.
Queen's Jubilee – Haig Street Reserve: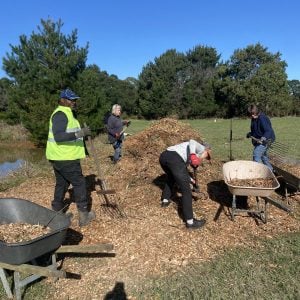 Haig Street Reserve is a paddock located within a small estate of bush blocks in Bittern. Formerly, a large grassy expanse, with a few remnant eucalypts, a dam surrounded by blackberries and a creek lined with gorse. Other invasive species include watsonia and kikuyu grass. All this is in the process of evolution from a wildlife desert to a wildlife haven thanks to the hard work and dedication of a group of motivated residents who approached the Council to help them transform the site.
The remnant eucalypts have been linked together with 'corridors' of indigenous species and mulched to suppress weeds. The dam has been cleared of blackberries, mulched, and planting has begun to provide protection for ducks, small birds, long-necked turtles, skinks, lizards, and frogs. The side of the paddock with the creek has been planted up with canopy species for koalas, parrots, owls, tawny frogmouths, possums, and other native animals. The group meet once a month to weed, mulch, plant, and connect over a shared passion for supporting local wildlife and improving ecosystems for biodiversity.
The project has been enhanced through the Queen's Jubilee grant from the Biosphere Foundation, which has provided extra plants, signage, a bench, and extra slashing and weeding days by contractors, Naturelinks, helping to rid the dam of hundreds of square metres of blackberries.
Biodiversity in Schools: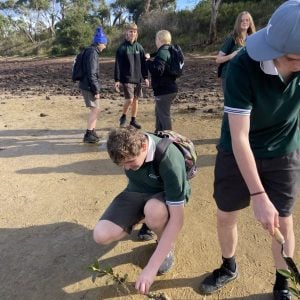 Our Biodiversity in Schools program continues with climate action and environmental restoration workshops for schools through the Climate Action, Blue Carbon Planning, Water Stewardship and the 2023/24 15 Trees projects. We always have opportunities available to schools through our fee-for-service program. Please see Biodiversity in Schools – Western Port Biosphere for details.
---